Art For Here is a one-week Regional Choreographic Development Lab based in Kandos in October 2022. The lab explores socially embedded practice or choreography relevant to social context and place. The lab's focus is sharing, research, reflection, and collaborative exploration.
In 2020 Critical Path and Cementa held our first collaborative lab in Kandos and set up a partnership for joint artist development. Critical Path laboratories are shaped as opportunities for regionally based practitioners to engage with their peers and expand practice relevant to the regional context.
The 2022 lab starts with an invitation to consider "art for here". We have invited Bridget Baskerville, Emma Syme (North East Wiradjuri Co Cultural Centre), Ira Ferris, Leanne Thompson and Jo Clancy to this lab. Claire Hicks, Director of Critical Path will facilitate the lab and Cementa Creative Director Alex Wisser will be the "guest" provocateur. During the lab, they will be working with ideas related to this invitation and the practice it raises/reflects will share their philosophies and approaches.
Participating artists: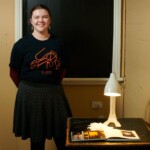 Bridget Baskerville is an emerging artist based between Canberra and her hometown of Kandos, NSW. She is currently undertaking a Bachelor of Visual Arts (Honours) at the Australian National University School of Art and Design. She is a printmaker but also works across the media of photography, video and textile art. Her practice encompasses the socio-environmental issues her hometown faces, as well as her personal connection to place and community. She has previously exhibited work at the Powerhouse Museum in Sydney, the CSIRO Discovery Centre, Canberra and PhotoAccess, Canberra.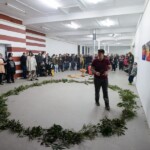 Emma Syme is a Dabee Wiradjuri woman and the Native Title and Cultural Heritage Officer of North East Wiradjuri Cultural Centre. North East Wiradjuri Co Ltd Cultural centre in Kandos is a not-for-profit organisation provides cultural activities to create a space for learning and healing through connection to art, people, language, culture, music, spirituality, land and water.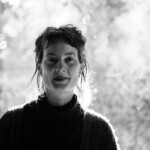 Ira Ferris is a Zagreb-born, Sydney-based artist, writer, and dramaturg with foundation in contemporary dance and training in BodyWeather. Her art practice includes movement, poetry, video, sound-collage, and conversation. Interested in ripping-open the Western concept of time and decolonising the body from the tyranny of the clock, she makes works that move at a gentler pace and consider environmental consequences of speed and non-stop production.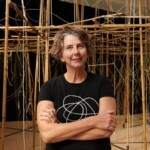 Leanne Thompson is multidisciplinary artist who employs diverse creative practice as a 'terrain' to explore environmental issues and community attitudes and operates in spaces of possibilities outside the traditional art world. Her body of work includes painting, encaustic, work on paper, artist books, sculpture, interactive installations, public art, and community engagement. Her land art projects incorporate solar systems, light and sound, prioritise natural and foraged materials, and aim to interact creatively and pragmatically with the world. She looks for ways to acknowledge and respond to science, old ways of knowing, land literacy, multiple species, and interdependent networks to inspire richly textured, socially just, and abundant living.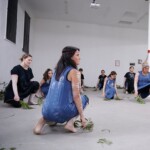 Jo Clancy is a Mother, Daughter, Sister and Aunty to many. She is a First Nations Choreographer, Dancer, Teacher and Mentor. A Wiradjuri woman born and living on Darug and Gundungurra Country. Jo commenced her full-time dance training at NAISDA Dance College in 1990 and went to Western Sydney University, where she became the first Aboriginal person to gain a BA in Dance in NSW. She founded her company Wagana in 2007 and is currently Head of Cultural Practice at NAISDA. Her works include Bangalang for the Commonwealth Youth Dance Festival, Glasgow, Sum of our Ancestors for Dance and the Child, Copenhagen, Gaurii for the Commonwealth Games Art and Cultural Festival 2018 and Wirawi Bulbwul for Dance and the Child 2019. Wagana have been the Australian representative at the Honolulu Festival in Hawaii since 2016 and fosters an ongoing Sista collaboration with the Raven Spirit Dancers, Vancouver.
Facilitators:
Claire Hicks is the Director of Critical Path. She has been working with artists, artform and audience development for over 25 years. As an independent producer and curator, her work includes dramaturgy, discourse & writing projects. She has programmed and produced theatre venues, international collaborations, touring work, international festivals, and a range of development programs.
Alex Wisser is an artist and creative producer based in mid-western New South Wales. Alex Wisser co-founded the Cementa Contemporary Arts Festival in 2013 and took up permanent residence in the township of Kandos with his family. Since then, his practice has focused on the challenges and opportunities of making art in a regional context. His current practice includes large-scale, long-term projects like Cementa Festival and Kandos School of Cultural Adaptation, which seek to embed art projects into  local and regional cultural contexts with outcomes that bring value to the communities and places in which they take place. Alex will be the "guest" provocateur for Art For Here Lab.
Images:  Hero: Wayout Art Space, Cementa head office Participating artists from left-right: Jo Clancy (photograph by Alex Wisser), Bridget Baskerville (Photography by Gus Armstrong) and Emma Syme (photograph by Alex Wisser) and Ira Ferris (photograph by Camellia Nguyen), Leanne Thompson (Photograph by Gus Armstrong).