Geraldine Balcazar is collaborating with Ira Ferris and Stella Chen to explore what a new relationship to time offers her practice and a different way to make work. They are asking, what shifts/transformations in the individual and social body could occur if we decolonise time and slow down – as an innovative approach to choreographic practice?
"Through the research based on sharing and exchange, we are doing dramaturgical thinking that is a blueprint for the new working methodologies within dance and body-based practices. These methodologies nurture and liberate the creative process, by finding tender ways of making work whilst embodying time." – Geraldine, Stella and Ira (Collaborative statement).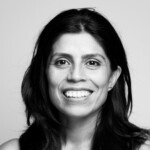 Geraldine Balcazar is a Chilean born-Australian artist living on Bundjalung Country. Shifting from the solo work she has been brewing from home, while becoming a mother during the pandemic. Sensing the internal shift of time in becoming a mother and the level of slowing down required – she is interested in creating new work with connections and ways of care shared through stories of memory and place. Dramaturgy has become an extension of her practice as a way of thinking about art making and life. While sketching and writing assist her to process and integrate.
Some personal highlights of her career include working throughout Regional Australia, being mentored by Lou Cope in Doing Dramaturgy Course 2022, dancing and discovering her Chilean Ancestry alongside Gabriela Green Olea since 2022, working with an array of national and international artist in Kaldor Public Arts Projects 2013-2016, training in Body-Mind Centering and being an Artist in Residency at Bundanon Trust 2014. She has directed independent works and collaborated as a performer.  
Hero Images credits:

Geraldine Balcazar with Kirsty Kiloh, Omer Backley-Astrachan, Charemaine Seet – The Draw In. Photo by Shane Rozario.
Tammy Zarb – Inside Out. Photo by John Gass
Meredith Elton – Wild City. Photo by Melissa U'ren
Meredith Elton – Lines in the Sand: (re)making contact. Photo by Derek Repchuck

Profile – Image courtesy of Sydney Dance Company