Kristina Chan (Biripi Country) is working with composer, music researcher, co-founder of experimental arts publication ADSR Zine James Hazel, and with dancer, choreographer Sophia Ndaba to investigate what it means to collaborate with the more-than-human forces. They are exploring dance that acknowledges a 'pluriverse' conception of the world, getting beyond human-orientated ways of conceiving the world through art.
Midway through the fellowship, our Producer Ira Ferris reached out to Kristina to share a bit about their process and reflect on where the project is at – what's behind and what awaits.
IF: How would you describe what your project is about, in a few words?
KC: We are interested in other agencies that are entangled within the mix of any creative process such as field forces of sound, bodies, vibrating matters, spaces, bodily resonances, biospheres. By paying attention to these things, we are hoping to inspire new processes and ways of working together.  
IF: What inspired this project, this collaboration, in the first place?
KC: Having worked for many years as a choreographer on collaborations that feel forced through fast deadlines and pressures such as performance outcomes, I want to look deeper into the alchemy that happens in a creative process but is too often overlooked, not valued for the 'magic' that happens.
IF: What was your original plan for this investigation, this research, and in what ways did this shift since, if it did?
KC: This was our original plan however we are finding many offshoots of inspiration, fascination and conversation that this research is evoking such as: Musical heterophony which is "a type of texture characterised by the simultaneous variation of a single melodic line" (Wikipedia). This has us thinking about exploring multiple timelines at once in choreography, music, and the three of us working on the same research but in different locations.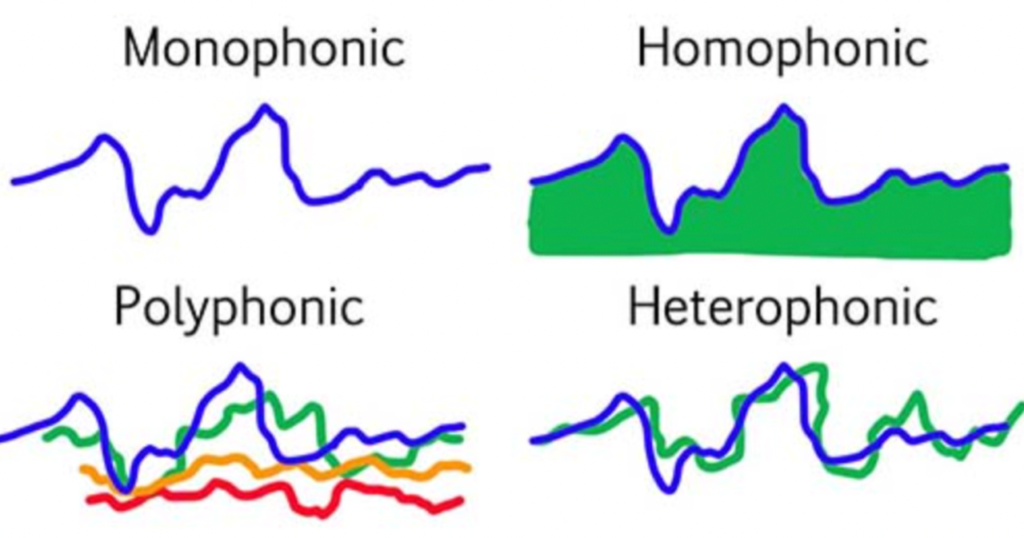 IF: Who are you working with? Who are your collaborators and what do each of them bring to the project that is invaluable to your process?   
KC: Sophia Ndaba – Dancer/Choreographer and James Hazel – Composer/writer. Both of these people have so much experience in their respective fields and both have very open honest ways of talking freely. We are all connecting through quite esoteric topics and have interest in these topics, and common interest in making work that evokes an atomposhere/feeling for the audience to experience.
IF: What shape does your collaboration take, in practice? 
KC: The three of us are working from three different locations, so we are gathering weekly via zoom. Our zoom meetings started as broad conversation and each of us brought to the table what is of interest for us right now, whether it felt related to the residency or not. Our conversations have been quite fluid but at the same time very aligned with each others interests, and have inspired tasks that we set for each other such as recordings, mind  mapping, movement ideas. We give each other 'tasks' each week then bring them back to the meeting to see how we can overlay the outcome in a "heterophony" style. It is rare to have this much time to develop conceptual relationships with collaborators over such a long period of time. It feels like this is a very rich way of working, building a language and dreaming together, which could very much lead to further collaboration to build a work in the future.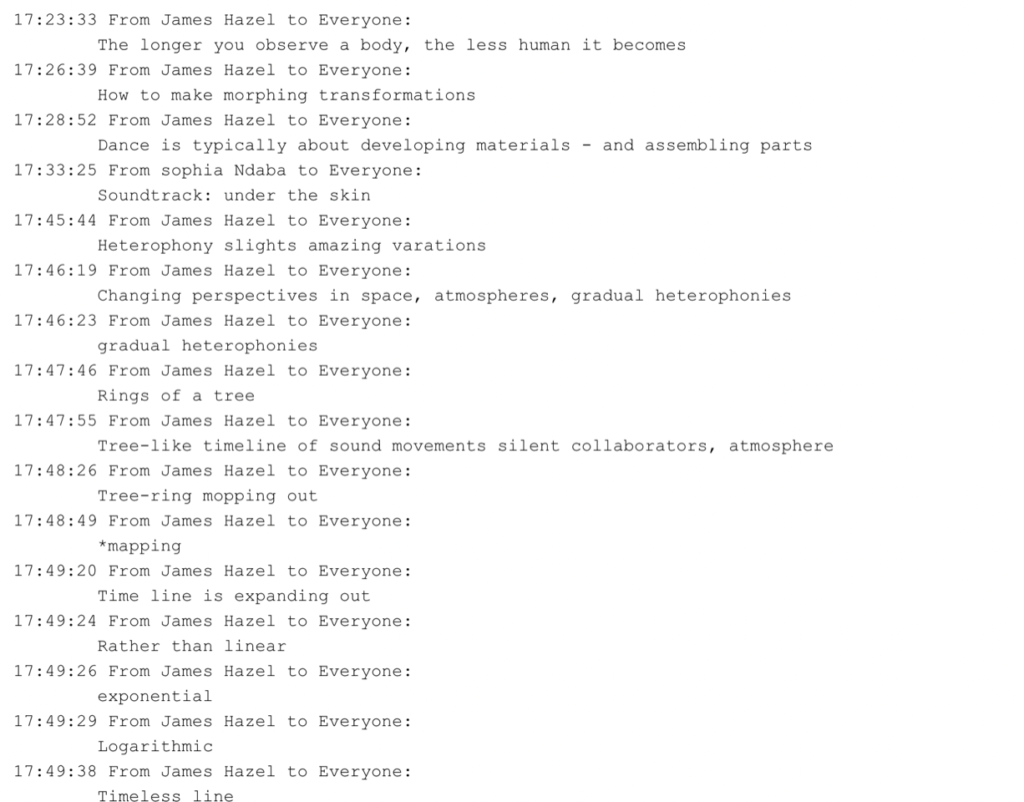 IF: What are some of the research materials (resources) you go through in exploring your idea? This could be texts, images, personal experiences, films, artworks, etc etc… What's on your desk/desktop?
KC: All of the above, we are not limiting ourselves to what we bring to the conversation. Sometimes what we bring may feel off topic at first, but somehow it always ties back in. 
 IF: As you mention, you have been working online a lot. What other spaces do you find inspiring for this work?  
KC: Going into nature to make recordings and observations. And we will soon, in a month time, come together in a physical space – the Drill Hall.
IF: What mediums do you use – apart from the movement/the body – in order to inspire and generate your choreographic thinking or choreographic process?   
Text, sound, mind map, recordings
IF: What sounds do you work with in researching/dreaming/making this project? Or what sounds would best describe your project/process, sonically? 
KC: I like to listen to sounds of crickets. Haha seriously, I have a recording of this and play it on repeat,.  
IF: As researchers, we work with the unknown and unexpected; a process of discovery. What is the most exploratory aspect of this work, for you? Where do you feel yourself most challenged and intrigued by what might come out of it?    
KC: I feel challenged by how the conversations we are currently having could be translated through choreography in a meaningful and honest way. Although, I feel confident in being in this space of the unknown, for now, and trust that the work is in the research and the conversations, and that the body will follow 🙂 
IF: What has this process brought to you and your life so far, as an artist and as a human (if the two need to be separated)? 
KC: It has brought me back into my practice, after being away from it for a couple of years, due to covid, having a small child and living regionally.  
IF: What is ahead of you in the next few months?   
More zoom meetings, more tasks and experiments, leading into our week at the Drill Hall in person.  
IMAGES:
Top: Kristina Chan, Dancing the Pluriverse
Middle: A diagram of what Hetrophonic might 'look' like
Bottom: A record of our chat notes from one of our zooms