In February and March, Michelle St Anne works with Sue Jo Wright and a sound ensemble for a development which is a continuation of the research project – Live and Online Dance Intimacy in 2022.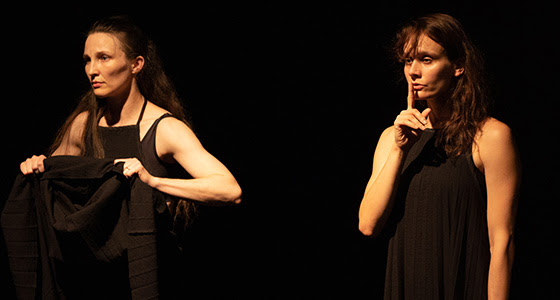 Sunday 19 March 2023, 4 – 6PM, at the Drill Hall
THE TABLE TEST // Sharing
Supported by March Dance & Critical Path
Enjoy a glass of wine and discussion as The Living Room Theatre shares their little vignette The Table Test which forms part of their new work in development The Reckoning.
"What happens when women start declining to make Very Important Men feel better about themselves and their offensive opinions? In that arena, it doesn't matter what you have to say. You didn't say thank you, so you no longer deserve a seat at the table". Amy Remeikis / The Guardian
FREE
Register: https://www.trybooking.com/CGLDL
Featuring: Sue Jo Wright, Eileen Camilleri, Holly Connor (drums), Ira Ferris, Cloe Fournier, Emma Langfield
Image #1: Image by Michelle St Anne
Image #2: Imogen Cranna and Cloe Fournier | Photo: Natalia Cartney
---
March Dance 2023
Kicking off March 1, the March Dance festival includes over 100 artists, 10 companies, 11 organisations and 27 venues coming together from across Sydney to connect and showcase the vibrant and resilient Sydney contemporary dance scene.
March Dance is an initiative of Independent Dance Alliance (IDA) produced by Critical Path and Dirty Feet.
Check out the full program of performances, residencies, workshops, talks, classes, sharings at www.marchdance.com