Performance maker and designer-scenographer, Helene Markstein is collaborating with Anca Frankenhaeuser, Fiona James, Natalie Wadick, Natasha Brusic, and Susan Weule on a project titled TREMOR, part of our 2023 RECONFIGURATIONS regional research fellowships program.
TREMOR takes cues from Helene's personal experience with Parkinson's Disease and translates its unique involuntary movements into the original dance scores and vocabularies. Seeing what dancers/choreographers can develop from Parkinson's TREMOR, Helene and her collaborators are advocating for "a constantly capable body".
"I hope to show those creatives who are firstly creative and secondly disabled, that there can be interesting creative opportunity in disability itself. Although thought incurable, crippling, and a disability, this work demonstrates that there are ways to make it bearable, and creatively exciting. What is more, this creative process helps delay the onset of severe symptoms of this disease." – Helene Markstein
Midway through the fellowship, our Producer Ira Ferris reached out to Helene to share with us a bit about her process and reflect on where the project is at – what's behind and what awaits.
IF: What steps are you taking in researching your topic? What shape does your research take?
HM: I have been observing and video-capturing the movements my body makes. Working with the video footage takes obsession and memory to keep at. The re-watching, waiting and reflection take time. Apart from that, I search the internet constantly, over all my areas of interest. I draw. I pursue anything that comes. I try to be open to what directions things invariably take. Transposing. I try to move things, change contexts. Be ready when that happens; be quick enough to catch it, whatever it is. My process always involves refining, refining, no matter what medium. I throw everything into it, then I start pruning away until it has the form I am satisfied with. I work with what I have and keep open to what comes my way from any direction. I am a designer so I am used to throwing ideas around from right way up to upside down. Which means I probably won't know until we are finished and are looking back, how it all fell out.
IF: How does the topic – the nature of the topic – affect the shape of your research process?
HM: In developing the Parkinson's vocab, I've been playing and working with 'the spiral' (a winding up or a winding down). I have always been interested in the Fibonacci Series/Golden Ratio. I know exactly when it entered my choreographic brain space, because my husband received a birthday card with it on the cover and somehow it made its way to my desk. I began drawing, trying to abstract the form to see what happens. One day while I was drawing, I have noticed that my fingers, then hands, then arm were taking this same shape when in the cramping curl of dystonia, one of the many symptoms of the Parkinson's movement. Wow! I had this interesting movement idea right in my body. Up until that point, I was more or less ignoring and denying what my body was doing. Looking back, this was the start.
IF: What is your research methodology like? Do you read? Journal? Work in the dance studio? Have conversations? Where do you begin and what happens then?
HM: I read… and Journal… not daily. But I do date. I have been known to use the kitchen, bedroom, or living areas to try out movements. I have lots of conversations, luckily with a few people who know and/or share my varied interests. I can begin from anywhere or anything. When something strikes me, I spend some time thinking about it, tossing it around in my head or sharing the ideas with my partner, or daughter, then either write or take notes on the phone, ipad or computer and it grows from there – not always to fruition or completion and some ideas last for years. Ideas resurface for a while shifting slightly. Some ideas appear to be 'all of a sudden' when actually they have been bubbling away for years.
IF: What are some of the research materials (resources) you go through in exploring your idea? This could be texts, images, personal experiences, films, artworks, etc. etc… What's on your desk/desktop?
HM: Chaos.
IF: Who are you working with? Who are your collaborators and what do each of them bring to the project that is invaluable to your process?
HM: I am working with Anca Frankenhaeuser a contemporary artist who is a delight to work with and brings her mastery, maturity, humour, talent, and experience to every part of the project. Fiona James is a dancer, teacher who also brings a wealth of experience and curiosity. Fiona helped with the making of the body-parts. She has a useful way of thinking about things with a scientific background. Her humour and generosity of spirit, she will always make things work. Natalie is x-student of Fiona and a teacher of contemporary dance. Natasha is a dance student interested in choreography and brings her own stamp of individual style to the project.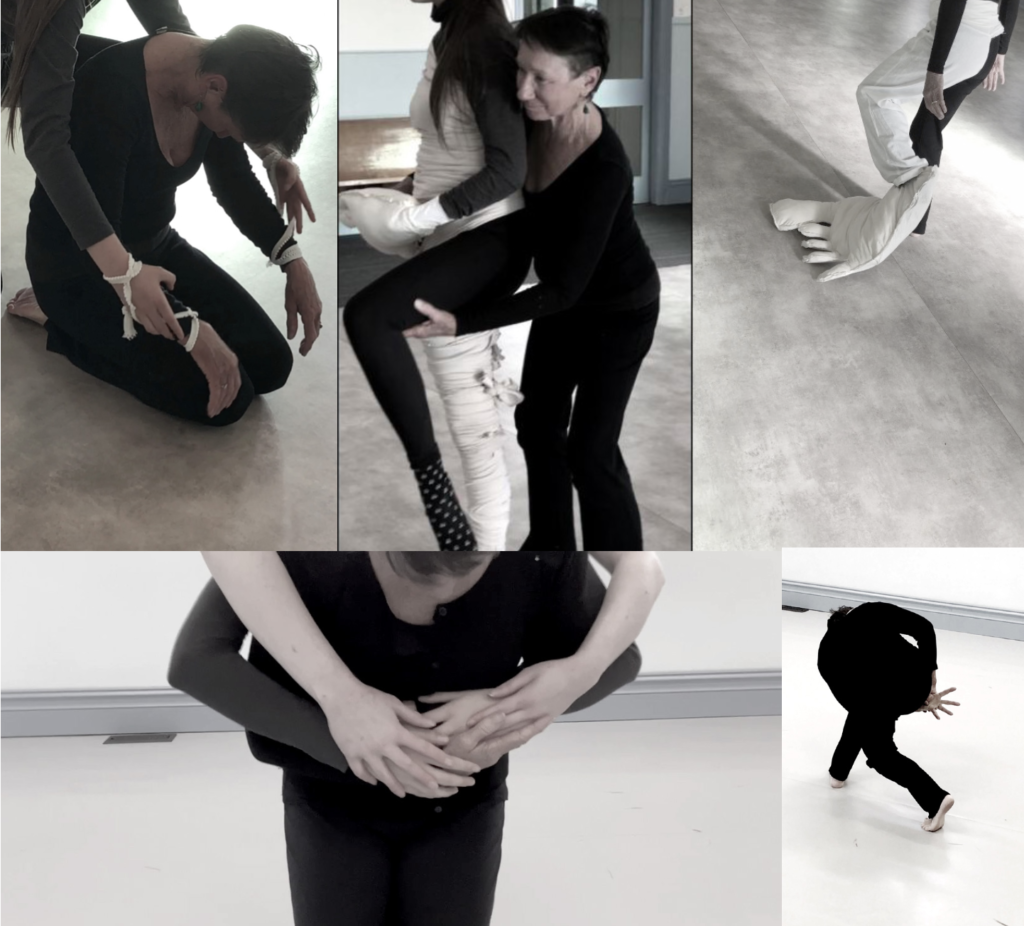 IF: How does this collaboration look like in practice? How are you collaborating together?
HM: This project was something different for Fiona and Natalie to work on. It was a constant challenge for them to work with me, finding it difficult to accept I wasn't looking for anything specific, only giving them material to inspire movement. I was most interested in what happened after they took my movement. They wanted to 'please' me. I was looking for a response to my Parkinson's movement. Also this was not a performance to work towards, so it was an unusual collaboration. I was asking for movement bits, not dance phrases necessarily and was happy with anything they could find, give me. We had an understanding that we would all decide collectively on what pieces would become the part of the vocab that could be put forward for performance. The only way to do this practically was for me to make videos, that we all could comment on, chose or discard. It proved impossible to get everyone together in the one space.
CP: In your research process you have been digitally capturing Parkinson's unique involuntary movements, then giving this footage to the dancers/choreographers to see what original dance scores and vocabularies they could create out of it? In this process, you wanted them to work independently from each other, rather than as a group. Why was this important to you?
HM: When either two or three dancers were working together they tended to move similarly. That was a challenge for me. I was insistent that the dancers find their own responses; make their choice of elements and principles to work with. I was interested in where their movement would go.
CP: What are you responding to the most, from what they are giving you?
HM: I look for what holds my attention, for whatever reason. It can be evocative, simplicity itself, or complete chaos, possibly mystery. It can be amusement, light or dark, what touches me or somebody else. I am captured when I am left with trying to understand, or wanting to know more.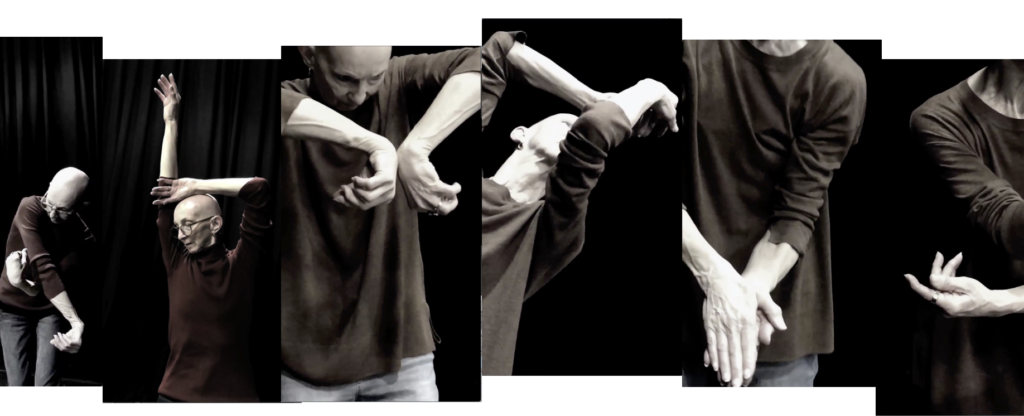 IF: What space/s do you work with? What spaces do you find inspiring for this work?
HM: I hired space from Katoomba Ballet Art, a repurposed Masonic Hall that has been renovated for ballet school purpose. A week at The Drill was inspiring and we all look forward to having another day or two in August, depending on other work commitments for everyone coming down from the mountains.
IF: What are some of the obstacles and/or challenges that you are (or have been) facing and how do you go about confronting them, navigating them?
Technology was a pain. Try and try again. Technology continues to be a pain. But waiting hours for renders gave me time to dip in and out of the writing. To go and interrogate and define what choreographic material I could develop from elements and principles of design. Also, the dancers I worked with said they struggled with not being certain if what they were offering to me was what I wanted. Working with impro, was not necessarily their comfort zone because they were used to working with music or emotional reaction and this seemed to them more of an academic approach. I needed to go with that flow. I was grateful and happy with their generosity of spirit in what they came up with.
IF: What mediums do you use – apart from the movement/the body?
HM: Design, reflection, video, stills, cloth, light, costume, television series, books, walking, talking, arguing.
IF: How do these other mediums influence/affect your choreographic thinking or choreographic process?
HM: I like to see everything as a metaphor for movement, therefore everything influences. I also like to work with what I've got – whatever is in front of me. A script played underwater… has me currently trying all movement in slow underwater moves. Try it… it's fun.
IF: You are now roughly half way through your project. What has the timeline been so far? What were some, so called, milestones?
I have divided the process in three parts. Part 1 was driven by the need to kick-start the process for all the dancer/choreographers. I set up a small studio in my apartment and videoed myself, capturing the involuntary movements I was making. This needed to be done quickly, so I made a list – the equivalent of a shotlist – that gave the moves names, so I could efficiently go through the movements one after the other, eg. all seated moves, all standing, all hands etc. Documenting all the movements that were new to me over the past two years, instigated by the Parkinson's. And where possible, what had triggered them or caused the desire for concealment through embarrassment. I then shared this videos with dancers who reacted encouragingly, preparing small phrases, some of them explaining how they used the elements and principles of design.
I then secured the studio space in a busy Katoomba ballet school's hall – negotiating times with all the dancers, emailing them all the list of RAW moves that corresponded with the video and also naming these moves. Some work was done at the dancers' homes that gave rise to other moves that were named by the dancers. We were also designing the Body-Parts such as the large foot and hand, for the dancers to work with. And we needed to make them workable and easily attached. Fiona James was a big part of this collaboration, assembling, making, trying and remaking, and this involved travel to and from, down and through the mountains. Later on, Critical Path supplied the studio space and this was very useful for Anca Frankenhaeuser to work in, giving a solid block of time (with successive days) to follow through ideas.
Part 2 of the process involves working through all the video sections of each dancer's moves. I started by using the Part 1 Capture List. Identifying and matching movement actions with video sections took time, and I am at the very beginning of it. Again and again the technology let me down. I've been wondering if I should use the footage with glitches (tremors?). It has a wacky appeal. The overwhelming enormity of the task striking at me gave the rise to any shortcuts possible.
After collecting so much material I needed time to reflect on what I actually had. I realised I had captured enough material, the only way to digest it all was to familiarise myself with it, break it all up, name it. I needed to analyse and systematize my raw data material to identify the vocabulary. To be able to see what had come out. I needed to set up all the sections each dancer had worked on, corresponding to the first video's raw list. This would make Part 3: showing the potential, demonstrating how these 'bits' work together in a choreographed composition suitable for performance, using the sequence of steps and movement compiled from the gathered material. Would they be interesting? As a group we would need to watch and decide if or what could be useful to develop further as performance material.
IF: What are some of the biggest discoveries you made so far? Surprises? Unexpected turns your project took up until now? Something you didn't anticipate at the beginning and it felt as an unexpected revelation?
An unexpected turn was the need to refine the names of movements in Part 2, sometimes using two movements or more, as one group of moves. This was interesting… because, of course, everything flows from one to the other. The project is beginning to own itself the deeper I go into it. At the bus stop waiting… a revelation struck me. Relieved me actually. This is research. I don't need to, or it is not required of me, to completely follow through with some things, I can indicate what direction they are heading. Going further is for another time.
IF: Have your initial thoughts around your topic – your field of research – changed, and in what way did they expand, if they did?
HM: Given that this is a research… as far as creating is concerned, it doesn't matter what turns it takes, it will bear fruit, inevitably arising as raw choreographic language. My heartfelt thanks go to Critical Path and Create NSW who supported this project, making it possible.
IF: What has this process brought to you and your life so far, as an artist and as a human (if the two need to be separated)?
HM: It certainly has taken my mind off the Parkinson's… which is quite funny. It has made me feel less self conscious … also funny. Such a relief, this has carried into my everyday life; to be able to walk into and around a studio space where movement of all sorts is the accepted norm. As an artist I am still struggling with the abstraction of the spiral. It's a daily battle with the medications. They are known for making people confused, which is not what I need to be, doing this type of process.
IF: What is ahead of you in the next few months?
HM: The long and arduous work of assembling video footage. My practice always includes playing with the visuals. I learn from this. At the moment there are two long videos being made. For the Part 2, each capture is broken up and is being re assembled. An absolute patchwork of movement language. The Part 3 is an endless showing of the phrases or pieces that demonstrate the perfomative value. Sharing with the participants and reworking the 'Parts' from their input. I am interested in what the dancer/choreographers make of how I put the footage together.
IF: What sounds do you work with in researching/dreaming/making this project? Or what sounds would best describe your project/process, sonically? Or, if your project or your process had a soundtrack, what would it be?
HM: Percussive. Parkinson's has a driving percussive motor, TREMOR. My body responds to everything that has that beat.
IF: What's on yours and Anca's playlists as you work on this?
Mine includes:
Michael Nyman – Chasing Sheep is Best Left to Shepherds

LP – "Forever For Now" (Live In Sun King Studio 92)

Florence + The Machine – Big God

Dance Fever

Handel Lascia chio pianga BEST VERSION EVER

Antonis Papacostas

King Arthur, Z. 628, Act III: Chorus. "See, See, We Assemble" – Dance

LACRIMOSA – Requiem for a friend

And this is Anca's: 
The Homeless Wanderer (Emahoy Tsegué-Maryam Guèbrow)

Marcevol (Renaud Garcia Fons)

Sirpale (Kimmo Pohjonen)

Dance Me to the End of Love (Leonard Cohen)

Á Travers Les Parole (Geir Inge Lotsberg)

Quiet Sea (Imogen Manis, David Jones)